Honda Dashboard Warning Lights Guide
Seeing one of your dashboard indicator lights pop up when you're driving can be a little daunting. By knowing what each symbol means can save yourself from a lot of panic. A great rule of thumb is to treat the dashboard warning lights like the colors of a stoplight. If a yellow icon appears, drive with caution and have your vehicle checked as soon as possible. If a red icon appears, it indicates a more serious problem. We recommend pulling safely off the road, stopping the engine and calling for assistance. Tonkin Gresham Honda has assembled this guide to help you understand what each dashboard indicator/warning light means. The Honda dashboard lights listed below can be found on the vast majority of the Honda vehicles built after the year 1995 including the Accord, Civic, CR-V, Fit, and HR-V models.
What Do The Dashboard Warning Lights Mean on Your Honda?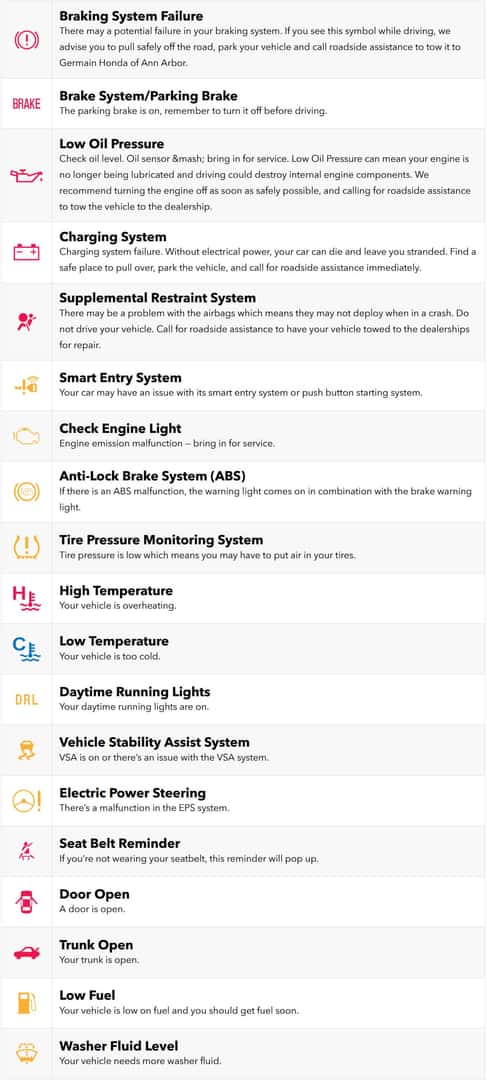 Exceptional Service at Tonkin Gresham Honda
If any of these symbols pop up on your dashboard and service is required, you can count on our Honda Certified technicians to repair your vehicle using Genuine Honda Parts. No one can take better care of your vehicle than the ASE Master Technicians at Tonkin Gresham Honda. They've got the experience, the tools and the knowledge needed to fix your car right the first time, every time. You can enjoy enhanced peace of mind knowing that your vehicle is being serviced by the experienced team at Tonkin Gresham Honda!