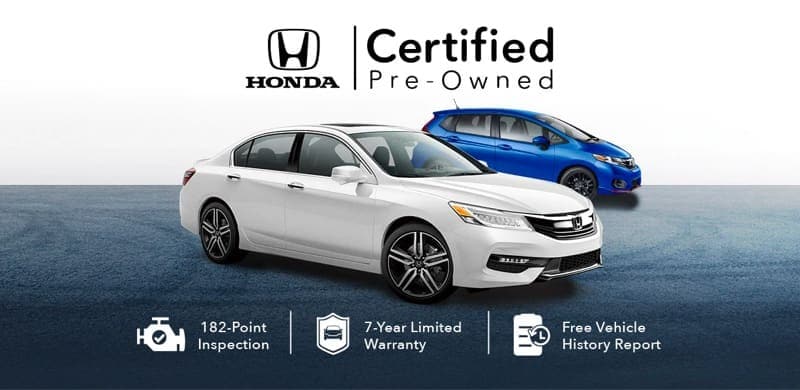 Certified Pre-Owned
Nothing compares to the quality of a Honda. No other program comes close.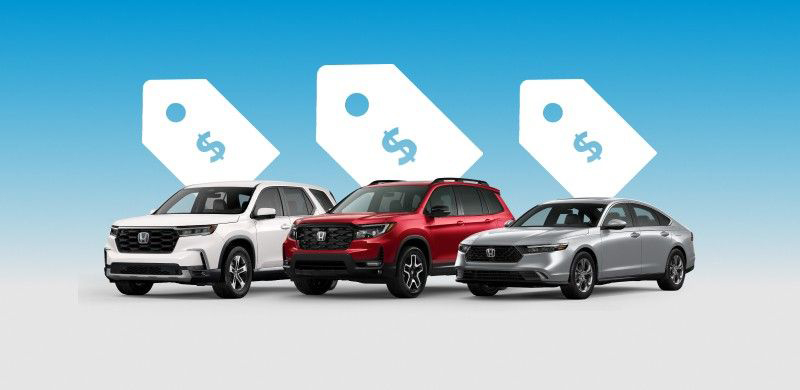 Current Offers
See this month's featured current offers going on now on new Honda vehicles.
Our Reviews
GREAT - the honesty was so refreshing. Scott Barney is now our goto person. His personality is top-a-the line. Overall we have not encountered people so helpful in many years. All our future transportation purchases WILL be at Tonkin Gresham Honda. And get this - we live in Arizona, when we returned home, a week later the DMV already had all the papers needed for our plates. The DMV person said that hardly ever happens. We told him, if he's ever in Portland and needs a vehicle, go to TONKIN. Carla & John Helfrich
SCOTT, was a great person to work with when we bought our truck from GRESHAM HONDA he did not pressure us into something we did not want as we looked around in fact they stayed late after hours until all the paperwork was done EXCELLENT DEALERSHIP
Excellent customer service throughout the entire process of internet contact, virtually walk-around provided, and once in the dealership. They have the best staff whose goal is to provide great customer service and they succeed doing that. John and Dustin were fantastic in helping us every step of the way as was Josh and Tanner as well.
Finally ready to retire my trusty Subaru - which I bought new 21 years ago! - I thought I'd buy another Subaru. After visiting a Subaru dealership and test driving four cars, we then visited Tonkin Gresham Honda, where we met Mike Pricket! We test drove a HR-V and a Hatchback ... I loved the Hatchback immediately. We went home, and I did some research on my own, learning it is the highest ranked vehicle in its class. We returned to Honda told Mike I wanted a RED one and in the Sport model. He found one, and 40 minutes later it was mine. Through it all, Mike was patient, communicative, friendly, and helpful. I have interacted with a couple folks with the service team, and they were just as wonderful to deal with. I am so very pleased with my Honda Civic Hatchback Sport ... so very happy with my purchase!
Brenden was who helped me and he was very friendly Not only to me but to my kids who came with me. He made it as less stressful and fast as possible. I would Definitely recommend this dealership to anyone who is looking to buy or trade in another vehicle.
Good honest personable service. Ron has been great about prompt service, active communication, patience with answering all my questions, looking up info as needed, and providing sound advice. I highly recommend working with Ron!
The sales man was super nice and helpful, he made the process quick as possible. I came in looking for a specific car and he knew exactly where it was and what I wanted. His name was Robert, he made the paperwork super quick and easy, the finance guy was helpful and just did his part. Robert made the process of discussing different options for me very easy and no pressure at all, there were some things on the financial side that we didn't agree on with the finance guy but overall the process was successful and we all agreed on the deal. This dealership is a great dealership and I highly recommend anyone to go car shopping here, and if you come to the Honda Ron Tonkin on stark and request Robert Hampton as your sales rep, your experience will be awesome, and stress free as possible.
I've done business with this dealership for 18 years. They've made us into a Honda "family". Every car we've purchased from them has been completely dependable, and the sales and service staff are exceptional.
My husband and I were very pleased at how thorough, accommodating, and helpful Dane was with our Honda Ridgeline test driving, options/features explanations/instructions, and ultimate purchase process. We believe from our experience with him that he will ensure we are taken good care of as we go through the process of adding accessories and ongoing regular car maintance over time. We grateful that he knew every detail, large and small, about the Ridgeline and took the time we needed for showing us especially when we were ready to drive away with our new purchase. Thank you Dane.
The moment I walked into Honda I was treated with so much respect. I was so impressed with the customer service of Dane Walen (and his colleagues) he made sure I got the car i wanted! Thank you
Mike Gunderson at this dealership made it so easy for us to buy this car via the internet. I would highly recommend this dealership. They made everything very easy for us.
Said it all in the title I will go back looking forward to the continuing service and extras that I ordered love the HRV so far
This was the BEST Tonkin experience I have had. The sales staff was great! They found me a great car and gave me a great deal!
Excellent experience excellent sales person ewould use this dealer again. The salesman did an excellent job of being very thorough in his exclamations and taking us through the process step-by-step
After several stops and not getting what we wanted, these guys found us the right car at the right price, no nonsense. Great car, great service, great price.
Dane was very helpful , even sent me off to another dealership to find the RIGHT car for me. I came back and purchased from him. Thank you, thank, thank you!!!
I kind of dread the used car experience I remember with my parents when I was a kid. I did my research online before I visited the dealership. Had a specific used 2015 Honda Civic in mind, already got pre-approval for the loan from my credit union. Haven't purchased a vehicle in over 10 years, and was pleasantly surprised by the transparency and ease of purchase. Manny was an excellent resource - I'm not too mechanically inclined, so I didn't have too many questions about the performance of the vehicle. We went on a pleasant test drive. I was a little unsure of purchasing the first vehicle I test drove, but it was a certified used vehicle at an excellent price. It had been purchased and serviced at the dealership. The carfax was available online, and Manny also offered me a copy. The internet price was about $1500 less than the sticker price on the lot. No haggling needed. The Sales Manager introduced himself and was very friendly as well. Manny did offer me the extended warranty and gap insurance, but backed off as soon as I turned it down. No pressure. The finance guy was a different story. He was very friendly at first. Though I had financing arranged through my credit union in advance, he still tried to go over the payment options with me and sell me the extended warranty (again) and other options. The price of the warranty went from over $3000 to about $1250 after I declined the first time. Same with the other options (good tip to keep in mind if you do want the extras!). He tried to make me feel like I was making an irresponsible decision by not purchasing the extended warranty, even though my purchase was based on Honda's reputation. I would suppose this guy uses individualized sales techniques based on the customer. I'm a CPA, so I am comfortable with financial decisions and carefully weighed my options before going to the dealership. Probably not the best person to sell extras to. I work hard for my money, and I'm a bit thrifty in my spending. My old car is 14 years old, and I plan on keeping this one for just as long. The finance guy became curt and unfriendly after I turned down the extras a couple times, and made me feel like I was an inconvenience. I understand how commissions and spiffs work, so coming in with outside financing was probably not making this guy much on the sale. He seemed glad to get me out of his office. I do understand that this is his job to sell me extras. I did not trade in my old car as it was going to a family member, so I thought I'd have to get a ride back to pick up the new car. Manny, the salesperson, was kind enough to drive the car from Gresham to my home in SW Portland. He would have hit rush hour traffic heading back to the dealership. I was very appreciative of this extra service.
After having our last Odyssey for 12 years and having zero issues with it we knew getting another Honda was an easy choice. Thankfully Tanner did a great job helping our family decide between a new Pilot or Odyssey. I'm very happy to say that we went with the Odyssey and our experience was amazing.
If you want a great deal on a new or used vehicle, come down and see Ron Reddy! He was fast and easy to work with!
This place had the best prices and experience in town. I was in and out in 2 hours. We went for a test drive, washed, fueled the car and signed some papers. I'm very satisfied with the Gresham Honda store. I'll recommend my friends and family to this store.
Loved Dane and Jim we had a little rough start but these guys finished the experience great. The car is for my daughter and we feel like the car will be safe and sound for. Thanks.
we came into this dealership, in hopes of finding a reliable car and we did find it with all the help of Simon. He when above and beyond trying to make this happen for our family. We are very happy !!
Price is right.salesman was everything I would expect from the Tonkin organization good imagine going anyplace else to get my leased car. We have a need for two more cars coming up in the next six months and I know where I will call
We drove 3 HOURS to come and look at this specific vehicle and they far exceeded our expectations. Mike and all of his people at Tonkin Gresham Honda were awesome! We love this dealership! And my new car!
Was on our way to Kia and saw a new Accord and completely changed our mind...headed over to Tonkin. Got out of a dreaded lease.
Welcome to Tonkin Gresham Honda
Honda Dealership in Gresham, OR
Tonkin Gresham Honda, a valued member of the Tonkin Automotive Group, is dedicated to delivering top-notch service to the Troutdale community. Our Troutdale-based Honda dealership on SE Stark Street provides a wide inventory, exceptional Honda service, and personalized customer support to Portland, Gresham, Beaverton, Tigard, Vancouver, and other neighboring areas.
Exciting New Honda Models Available in Gresham
Looking to purchase a new Honda but having trouble deciding which one suits you best? Pay a visit to Tonkin Gresham Honda and let one of our sales team members assist you in finding the perfect fit! Our inventory proudly features the latest Honda models, including the HR-V, CR-V, Civic sedan, Civic hatchback, Accord, Ridgeline, Pilot, and more. Whether you need a spacious Honda SUV for your family, a fuel-efficient Honda car for your daily commute, or a rugged Honda pickup for your Oregon adventures, Tonkin Gresham Honda has the ideal model for you. Take advantage of our new Honda specials and Honda lease offers to enjoy substantial savings! Swing by our Troutdale-based Honda dealership or explore our new Honda inventory online to start your shopping journey now!
Used Car Dealership in Gresham
We understand that when it comes to purchasing a pre-owned vehicle, a certain level of caution is natural. At Tonkin Gresham Honda, we take pride in offering an extensive inventory of used cars, trucks, and SUVs that combine reliability with affordability. Furthermore, we provide an impressive selection of certified pre-owned Hondas, delivering an extra layer of confidence. Our certified pre-owned models have undergone a rigorous, comprehensive multi-point inspection to ensure that you receive a high-quality vehicle before it even arrives at our dealership. To enhance your savings, you can also explore our used car specials or check out our used cars under $15,000, as we are committed to offering you the best possible prices, regardless of your preferences. Whether you prefer to shop for used and certified pre-owned cars in Gresham or browse our inventory conveniently online, we have you covered!
Genuine Honda Parts & Honda Service Center
At Tonkin Gresham Honda, we understand that the real journey begins after you drive away from our lot in your new Honda or used car. Maintaining the health of your vehicle involves routine upkeep, which can sometimes be a challenge with your busy schedule. The service team at our Honda dealership takes pride in offering a range of services that empower you to take control of your scheduling process. While you can always call our team to arrange your service over the phone, we've made it even more convenient with our online service scheduler, allowing you to schedule from anywhere with just a few clicks!
Whether you're in need of a Honda oil change, brake repair, or Honda battery service, our highly-trained technicians at our service department in Troutdale are more than qualified to ensure your vehicle remains in the best possible condition for your safety and that of your family. Additionally, our team uses genuine Honda parts that are specifically made for your Honda, keeping its longevity and helping maintain its market value. Reach out to us today to schedule your next appointment and provide your Honda with the care it truly deserves!
Auto Finance & Lease Options in Gresham
We recognize that securing financing or a lease for a new vehicle can be a daunting and overwhelming task. That's why, at Tonkin Gresham Honda, we take pride in offering an informed and accommodating finance department serving Troutdale and the nearby areas. Looking to streamline the finance process? You can easily complete our online pre-approval form, securing your approval before even setting foot in our dealership! Do you have a complex credit history? Rest assured, our credit assistance programs are here to assist, ensuring that even customers facing credit challenges can access a new vehicle. We believe that everyone deserves the best, regardless of past financial hardships like bankruptcy, foreclosure, or divorce. Our finance team is eager to guide each customer in making well-informed decisions about auto loans or leases, and we possess the expertise and experience to handle even the most challenging situations. Take the first step by getting pre-approved online or visiting our Honda dealership in Troutdale to initiate the finance process today!
Get Directions To Tonkin Gresham Honda