Honda Dashboard Warning Lights Guide

What Do The Dashboard Warning Lights Mean On Your Honda?
Seeing one of your dashboard indicator lights pop up when you're driving can be a little daunting. By knowing what each symbol means can save yourself from a lot of panic. A great rule of thumb is to treat the dashboard warning lights like the colors of a stoplight. If a yellow icon appears, drive with caution and have your vehicle checked as soon as possible. If a red icon appears, it indicates a more serious problem. We recommend pulling safely off the road, stopping the engine and calling for assistance. Tonkin Gresham Honda has assembled this guide to help you understand what each dashboard indicator/warning light means. The Honda dashboard lights listed below can be found on the vast majority of the Honda vehicles built after the year 1995 including the Accord, Civic, CR-V, Fit, and HR-V models.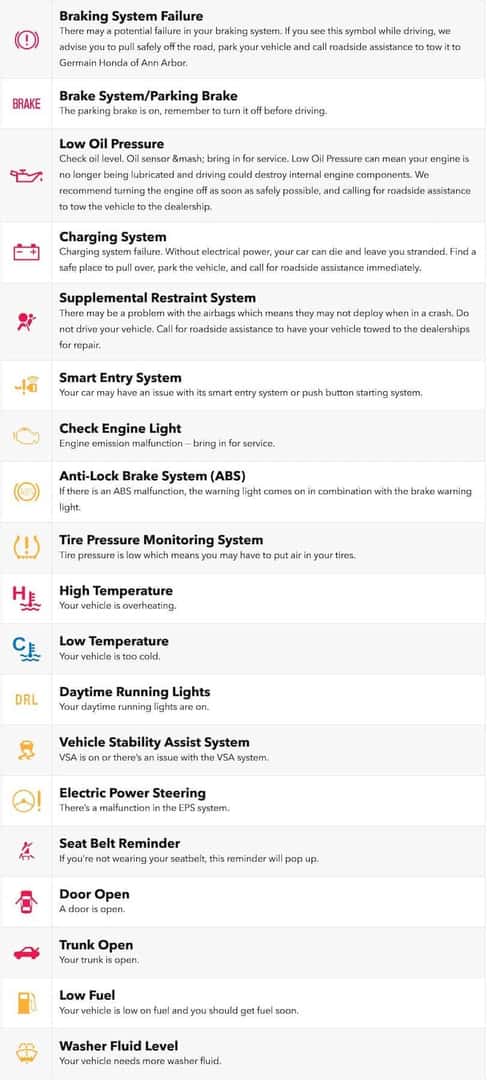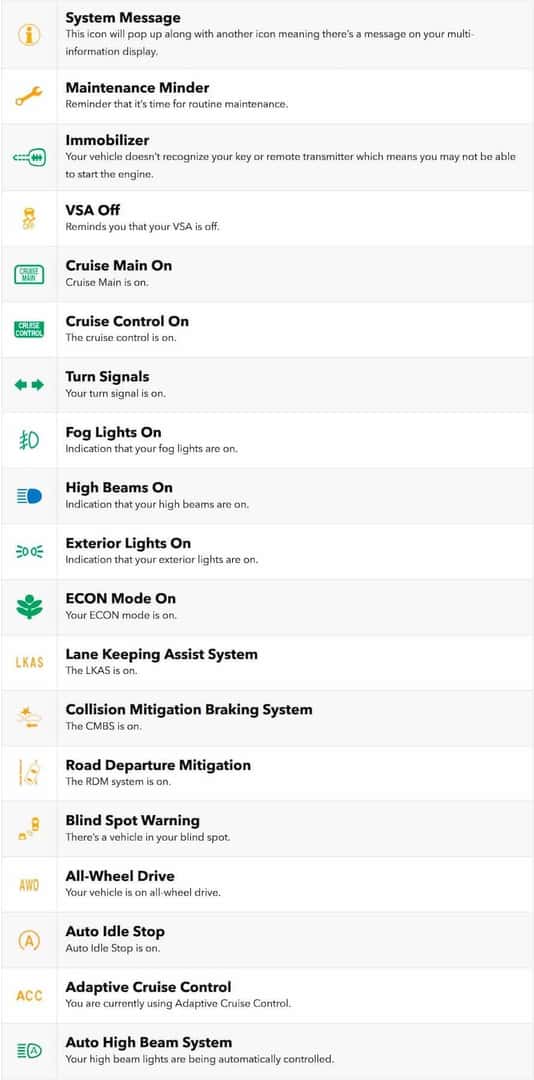 Honda Warning Lights FAQs
What Types Of Warning Lights Are There On Hondas?
There exist three categories of indicator lights on most Honda vehicles:
On/Off Indicators
Condition Indicators
Malfunction Indicators
Honda On/Off Indicator Lights
These types of indicator lights serve to communicate the activation or inactivation of certain vehicle features. Typically, these lights do not represent a problem and are simply informative.
Examples of these are:
Headlights On/Off
Foglights On/Off
Turn Signal Indicators
Cruise Control
Honda Condition Indicator Lights
Most drivers are familiar with the "dinging" noise from when a door is left ajar or when a seatbelt is unbuckled. However, many do not know that this type of communication is called a "condition indicator." Not only are there chimes to serve as an indicator, but there are also dashboard lights. These lights communicate to the drivers and passengers of an automobile that an action or correction may be needed. Other examples of such indicators include:
Low Tire Pressure – Visit our tire service center near Gresham for top-quality tire service and inspection. If your tires are due for replacement, our tire store in Troutdale offers great tires at exceptional prices.
Low Fuel Indicator
Trunk Open
Washer Fluid Level
Malfunction Indicator Honda Dashboard Warning Lights Symbols
When a Honda's systems detect there is a potential problem, it will typically communicate this to the driver using a type of light called a Malfunction Indicator. These are typically the most serious type of dashboard warning lights and should not be ignored. If you experience any of these malfunctioning indicator lights, you should immediately contact your Tonkin Gresham Honda service advisor to schedule an appointment with one of our experienced service professionals. Honda malfunction indicator lights include but are not limited to:
Low Oil Pressure – Do not let this light come on due to lack of maintenance. If you are due for an oil change, do not wait. Search for Oil Service Near Me immediately, or take your Honda to the service department of Tonkin Gresham Honda for an oil change. Our dealership offers a quality oil change experience, and if you selected Sentinel Services or the Sentinel Plus Services package of Honda Care, your oil and filter change may be covered. It is best practice to perform all of your regular maintenance at the dealership, however, wherever you go, be sure to document all oil changes in the owner's manual and keep receipts for your records.
Charging System
Check Engine Light
Anti-Lock Braking System Light
High or Low-Temperature Lights
Electric Power Steering
What Does The Check Engine Light Mean?
A malfunction indicator for a check engine error may illuminate for a variety of reasons. Sometimes it's as simple as a loose gas cap, but in more serious situations, it can represent a significant engine issue. To find out the cause, visit our Honda service center in Troutdale. After we scan the vehicle's computer to determine what triggered the indicator light, we will then work to resolve any issues and reset the warning light.
What Does A Flashing Check Engine Light Mean?
When the malfunction indicator is flashing or changes from steady illumination to a blinking light, it often means the error is severe. Schedule service immediately.

What Does The Color Of A Warning Light Mean?
Indicator Light Color Standards
Similar to a traffic light, Honda indicator lights typically illuminate in one of three colors.
Green – "Green means go," and in many ways, this is the case for indicator lights. The color green is most frequently used with On/Off Indicators such as turn signals and headlights. They serve to communicate activation to the driver.
Yellow – Yellow is a precautionary or advisory color. This generally needs attention. This can be a condition indicator, such as low fuel, or a malfunction indicator, such as Electric Power Steering. Just because a yellow indicator light is on does not mean you will immediately experience a failure, but it could indicate failure is imminent. Explore yellow indicator lights and get them addressed properly. If you have any questions, contact a Honda Dealership service department.
Red – This color represents a critical event or condition requiring immediate attention. Most will assume this represents something broken or a critical failure. However, it may also serve to bring to one's attention a condition. This includes urgent conditional indicator lights such as trunk open, door open, and seat belt reminders. It is also used on more serious malfunction indicators such as braking system failure, charging system failure, or a high-temperature event. Do not ignore a malfunctioning indicator light; call our service department right away for assistance.
Blue –

What color is the high beam indicator light? If you said blue, oftentimes you would be correct. The high beam condition indicator is one of the few indicator lights that utilize the color blue. Another exception is the low-temperature indicator light, which is frequently blue.
Exceptional Service At Tonkin Gresham Honda
If any of these symbols pop up on your dashboard and service is required, you can count on our Honda Certified technicians to repair your vehicle using Genuine Honda Parts. No one can take better care of your vehicle than the ASE Master Technicians at Tonkin Gresham Honda. They've got the experience, the tools, and the knowledge needed to fix your car right the first time, every time. You can enjoy enhanced peace of mind knowing that your vehicle is being serviced by the experienced team at Tonkin Gresham Honda! For added value, see current Honda service & part specials near Portland.